Write about Wine. Read about Life. WineWonks, the Wine Blog Community.
Before the holidays, our wine tasting group gathered for a blind tasting of Bordeaux wines from the Right Bank.

The Right Bank is a large wine region that lies on the right side of the Dordogne river while facing the river downstream. It is made of 10 different appellations, including the prestigious appellations of Pomerol and Saint-Émilion. On the other hand, what we call the Left Bank is the region located on the left side of the Garonne river, north of Bordeaux. The Left Bank includes the Médoc and Graves districts.

The two banks differ mainly in soil composition. On the Left Bank, the soil is mostly gravels and wines are often dominated by Cabernet Sauvignon. On the Right Bank, the soil is made of clay, limestone and sand. Therefore, it is more suited to Merlot and to a lesser extent Cabernet Franc. Wines from the Right Bank tend to be fruit-forward with soft tannins and are more approachable than Left Bank wines when young.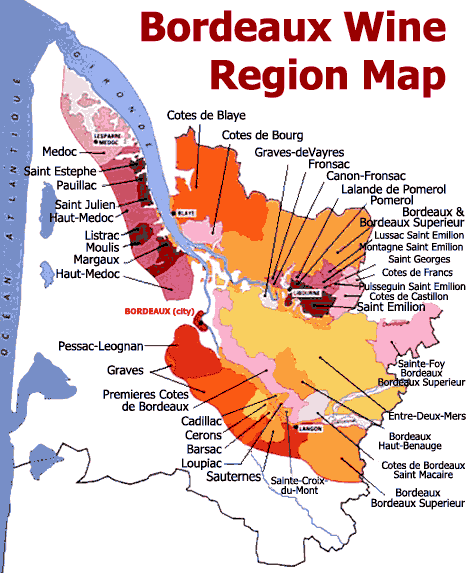 Bordeaux Wine Region
We tasted six wines from the appellations of Saint-Emilion, Lalande de Pomerol, Fronsac, and Côtes de Castillon. Four of them were from the warm 2005 vintage. The others were from 2004 and 2006. Overall, we found the wines tasty and food friendly although still young.
The wines we tasted:
•
2006 Château La Chenade
: this is a small property in the
Lalande de Pomerol
appellation, north of Pomerol. The wine is produced by Denis Durantou of renowned
Château L'Eglise Clinet
in Pomerol. The blend is Merlot 80%, Cabernet Franc 15%, Cabernet Sauvignon 5%. Our notes: subtle mineral nose with caramel notes, tight mid-palate, some acidity, earthy finish. Finished in fourth position.
•
2004 Château La Vieille Cure
: from the
Fronsac
appellation, west of Pomerol. Americans Colin Ferenbach and Peter Sachs bought the property in 1986, bringing a fresh investment of funds to lower the yields, select better fruit at harvest time, and buy new oak barrels, and winemaking equipment. The château has 20 hectares planted predominantly with Merlot (75%), the remaining being Cabernet Franc (22%) and Cabernet Sauvignon (3%). Our notes: dark color, discreet earthy nose, wood and acidity on the palate, slightly unbalanced, not as good as the others with food. Finished last.
•
2005 Château de la Dauphine
: from the
Fronsac
appellation,
Château de la Dauphine
has 37 producing hectares planted with 80% Merlot and 20% Cabernet Franc. The average age for the vines is 33 years old. The wine is aged in oak barrels (of which 1/3 are new) for 12 months. The last few years have seen significant investment both in the building itself and the vinification areas. Our notes: dark color, attractive spicy berry nose, full-bodied, mint and vanilla on the finish. Finished in second position.
•
2005 Château Rocher Bellevue Figeac
: a Grand Cru in the
Saint Emilion
appellation. The wine is a blend is 80% Merlot, 20% Cabernet Franc. it is aged 15-18 months in oak barrels, 40% of which are new. Our notes: peppery, smoky nose, full-bodied on the palate, a bit tannic but well rounded, long finish. Finished first, the wine was the clear winner of the tasting.
•
2005 Château Joanin-Bécot
: from the
Côtes de Castillon
appellation, east of Saint Emilion and south of Fronsac. It is owned by the Bécot family of
Château Beau-Séjour Bécot
in Saint Emilion. The wine is a blend of 75% Merlot and 25% Cabernet Franc, aged in oak barrels 70% new. Our notes: forward nose with dairy and mineral aromas, young and tannic on the palate. Finished in third position.
•
2005 Clos Kalinda Saint Émilion
: this is the first Bordeaux wine under the Kalinda label from
K&L Wine Merchants
. It is produced by Château Sansonnet in Saint Emilion. The property's second wine (in France, Lasalle) was used as a base for the wine with also some Sansonnet in the blend. Our notes: subtle vanilla nose with sweet fruit aromas, good mid-palate, shorter finish, good with food. Finished in fifth position.
Previous blind wine tastings:
•
Blind Tasting of Syrah
•
Blind Tasting of Cabernet Blends from Washington State
•
Blind Tasting of Pinot Noir from Los Carneros and Anderson Valley
Technorati tags:
wine
food & drink
Every year, my husband likes to make a Foie Gras for our December 31st dinner and it's interesting to notice that as years went by, his recipe has evolved to the bare minimum. There is no Armagnac marinade and water bath anymore: first, the foie is deveined, seasoned with salt and pepper, wrapped tightly with plastic wrap with the ends tied like a sausage, poached 5 minutes in boiling water, and refrigerated for at least a couple of days. He serves the foie gras at room temperature on toasted bread, lightly sprinkled with coarse sea salt.



The poached foie gras tightly wrapped with plastic wrap

Slicing the foie gras
To accompany the foie gras, our friend Christophe and I had brought two different bottles of Sauternes that we enthusiastically compared side by side.
Christophe's was the
2005 Château Doisy-Védrines
from an estate vineyard dominated by the Sémillon grape (approximately 85% Sémillon, the rest planted with Sauvignon Blanc). Like in the other Sauternes Châteaux, the harvest is labor-intensive, picking the fruit in several waves called
tries
to select the berries most affected by the
Botrytis fungus
. The wine is aged for eighteen months in oak barrels, 70% of which being new. The 2005 vintage was excellent in Sauternes with lots of heat and sunshine to ripen the grapes and foggy nights and mornings to promote the development of botrytis.
The wine had a bright color with rich aromas of dried apricot and pineapple. The palate had a lighter body with a lively acidity and a smooth and elegant finish.
Mine was the
2001 Château Clos Haut-Peyraguey
, an estate with 17 hectares under vine planted with Sémillon (90%) and Sauvignon Blanc (10%). The terroir is excellent for the appellation, characterized by north-east facing slopes and gravely and sandy soils on a clayey subsoil. The harvest is done manually in 4-7 successive
tries
to hand-pick the best botrytis-infected grapes. The 2001 vintage was highly rated in Sauternes, thanks to exceptional weather conditions and a speedy spread of botrytis on grapes that had the time to fully ripen.
The wine was opulent, with apricots, acacia flower, and honey aromas. On the palate, it was thicker and sweeter with a lingering finish of caramelized fruits.
So which one was the best with the foie gras: the livelier 2005 Doisy-Védrines or the more opulent 2001 Clos Haut-Peyraguey? I am sorry, I couldn't decide, they were both so good!
Technorati tags:
wine
food & drink
Our friend Christophe loves to make apple tarts. That's one of his specialties and he is pretty good at it. He makes a quick sweet pastry crust, arranges apple slices on top of it and bakes the tart until the apples are soft. That's a quick and easy recipe and we all love his tarts but our friend Jiyon thought that we should also try her own more elaborated recipe as well.



Christophe's tart
Her point was that the dough had to be made with very cold butter and iced water and it was important to use a pastry blender to cut the butter into the flour in order to avoid warming up the butter. When done, the dough had to be refrigerated for several hours before baking. And then, when the tart is cooked, she likes to brush the top of the tart with a glaze made of apricot preserve and Calvados.

Jiyon's tart
There were unanimous cheers for Jiyon's tart and everybody voraciously ate her/his slice. I thought the crust had a cookie-like crunchiness and was very tasty. I also liked the glaze on the apples but I found the Fuji variety that was used for both tart, too firm and not tart enough for my taste. For our next apple tart competition, I think we should use Granny Smith or even Golden Delicious.
Because it was New Year's eve, we drank a
Champagne Nicolas Feuillatte Brut Rosé
, a terrific dry Champagne Rosé with a delicate rose petal color and a lot of finesse, although the Champagne was much too dry to accompany the apple tart.
I think the
Michele Chiarlo Nivole Moscato d'Asti
that
Kobrand Corporation
had sent me before the holidays would have worked better with the dessert. Unfortunately, we had tasted the wine earlier in the evening and there was none left.
Made from the aromatic Muscat grape,
Moscato d'Asti
is a sweet, semi-sparkling wine with low alcohol content. Nivole, which means
clouds
in the local dialect, is produced by
Azienda Vitivinicola Michele Chiarlo
, a prominent producer in Piedmont. The fruit is sourced from a single south-southwest facing, steep hillside vineyard. Fermentation occurs using natural yeast and is stopped when the wine has reached an alcohol level of 5.5% using a sterile filtration to remove any remaining live yeasts. Then the addition of unfermented must adjusts the residual sugar level to 11%.
The wine had a pale yellow color and a fragrant nose of exotic fruits. The palate was light and fresh, slightly fizzy, with a definitive sweetness, leaving an aftertaste of honey and apricot. But the uncomplex sweet style of the wine didn't convince everybody: my husband thought it tasted like sparkling apple juice. Maybe he should have tried it with the apple tart.
Technorati tags:
wine
food & drink
Just in time for the holidays, Kobrand Corporation sent me a shipment of sparkling wines that I recently shared with some friends and family.


One of them was a bottle of Champagne Taittinger Brut La Française. Founded in 1734 by Pierre Taittinger, the Taittinger Champagne house owns approximately 752 acres of vines, including vineyards in the renowned Côte des Blancs and Montagne de Reims. It is one of the three most extensive wine estates in Champagne and relies primarily on its own grapes for its Champagne production. Pierre Taittinger was a visionary well ahead of his time. He foresaw that the market would turn away from heavily dosed, sweet champagnes in favor of natural, elegant wines and thus defined the Taitinger style to be centered on the concepts of lightness and naturalness.

The cuvée La Française contains approximatively 40% Chardonnay, over twice the percentage of Chardonnay used in the standard cuvées of most Champagne houses, the rest being Pinot Noir and Pinot Meunier. Chardonnay contributes elegance, finesse, and crispness to the blend. Pinot Noir brings body, structure, and vinosity while Pinot Meunier adds fruitiness and roundness. The wine showed a bright golden color and fine bubbles rising from the bottom of the glass. On the palate, it was fresh and lively with toasty, yeasty aromas and notes of apple compote on the finish.


The other sparkling wine was a bottle of Poema Cava Brut. Cava is a Spanish wine produced mainly in the Penedès region in Catalonia, southwest of Barcelona. Under Spanish D.O. laws, Cava must be made using the Traditional Method with second fermentation in the bottle, and using a selection of grapes that includes Macabeo, Parellada, Xarel·lo, Chardonnay, Pinot noir, and Subirat.

The Poema Cava Brut is a traditional blend of 40% Macabeo,40% Xarel-lo and 20% Parellada grapes grown in the Penedès region. Each grape variety is harvested separately. Primary fermentation takes place in stainless steel tanks at 16-18ºC. The three varietals are then blended, the triage (yeast and sugar) is added and secondary fermentation begins in the same bottle at a temperature of 13-15ºC.

Low in alcohol (11.5%), the wine had a pale yellow color, aromas of peach and apricots and was light and crisp on the palate. My friends preferred the toasty, yeasty flavors of the Champagne but my father-in-low, who enjoys going to Spain on vacation, really liked the fruity character of the Cava.

Technorati tags: wine food & drink
Considered America's sweetheart grape, Zinfandel was the theme of our latest wine club event. Our goal was to taste and compare different Zinfandel and Zinfandel related varieties from various wine regions, including Croatia, Italy, and California.

The story of Zinfandel is fascinating. It came to the United States in the early 1800s via the Imperial Nursery in Vienna, Austria, and quickly became a popular table grape in the Northeast. Then in the mid-1850's, it was introduced to California by a Massachusetts nurseryman who had joined the California Gold Rush. It thrived so well in the state's climate that by the end of the 19th century, Zinfandel was the most widespread grape variety in California.

For a long time, Zinfandel was California's mystery grape, but thanks to DNA profiling, it has now been proved that Zinfandel is a clone of the Croatian variety Crljenak. The grape was also imported to Apuglia in Southern Italy, probably by the Illyrians more than two thousand years ago. In Apuglia, the grape is called Primitivo because of its precociousness.


Here are the wines that we tasted:
•
2006 Dingac Plavac Mali Peljesac
:
Vinarija Dingac
is a Croatian winery located in the
Peljesac Peninsula
on the Dalmatian Coast.
Plavac Mali
, which has been found to be a cross between Zinfandel and the local grape Dobricic, is the main red varietal grown along the Dalmatian Coast. My notes: only 11.5% alcohol. Light red brick color, plums and prunes on the nose, light to medium-bodied on the palate, nicely balanced. Really easy to drink and pretty popular among the guests.
•
2006 Bibich Riserva
: The
Bibich estate
is located in
Skradin
in Northern Dalmatia. The wine is a blend of three local grapes (Babich, Plavina, Lasin) that are thought to be related to Zinfandel. My notes: 12.2% alcohol. Red berry color, spicy and peppery on the nose, medium-bodied on the palate, lively acidity, food friendly.
•
2007 Vinosia Primitivo di Salento
:
Aziende Agricole Vinosia
is a new winery from Campania founded by Mario Ercolino, winemaker at Feudi di San Gregorio, and his brother Luciano. The wine comes the
Salento
region, a sub-peninsula in the south-eastern extremity of Apulia in Southern Italy. My notes: 13.5% alcohol. Deep purple color, peppery, red and back berry on the nose, earthy on the palate, good acidity, licorice on the finish. My favorite wine of the evening.
•
2006 Limerick Lane Zinfandel Collins Vineyard Russian River Valley
:
Limerick Lane
is located at the eastern extremity of the Russian River Valley appellation and at the eastern end of the Dry Creek Valley appellation. The vineyard dates back to 1910 and some vines from that era are still in production. It is dry-farmed, relying on winter and spring rains to water the vines. The wine is stored for a year in a combination of French and Hungarian oak barrels. Each vintage uses between 25-30% of new oak. My notes: 14.6% alcohol. Medium red color, citrus and red berry on the nose, medium-bodied on the palate, herbal notes on the finish.
•
2006 Ridge Zinfandel York Creek
:
Ridge Vineyards
started harvesting Zinfandel from the
York Creek Vineyard
in 1975. Situated high on Spring Mountain and overlooking St. Helena and the Napa Valley, the York Creek vineyard has well drained gravelly loam soils and a cool, mountainous climate. The 2006 vintage is aged in a combination of new and used American oak barrels. The blend is 99% Zinfandel, 1% Petite Sirah. My notes: 14.8% alcohol. Deep color, red berry on the nose, medium-bodied, good acidity, juicy on the palate, well-balanced. A favorite among the Zinfandels from California.
•
2005 Rosenblum Zinfandel Harris Kratka Vineyard
:
Rosenblum Cellars
was founded in 1978 by veterinarian Dr. Kent Rosenblum and his wife Kathy. The winery works with over 80 unique grape growers and has an extensive wine portfolio of Zinfandel and Rhône varietal wines. The 16-acre Harris Kratka Vineyard is located just east of the Russian River in the Alexander Valley appellation. It is planted with half-century-old, head-pruned vines, 90% of which are Zinfandel, 5% Carignane and 5% Petite Sirah. My notes: blend of 75% Zinfandel, 15% Petite Sirah, 10% Carignane. 14.7% alcohol. Deep color, herbal, spicy on the palate, good finish, tasty.
•
2006 Seghesio Cortina Zinfandel Dry Creek Valley
:
Seghesio Family Winery
was founded by Edoardo Seghesio who emigrated from Italy in 1886. The family-owned winery flourished in the bulk wine business until the mid 1970s, producing most of the red wine made in Sonoma County. Then in 1983, Ted Seghesio, a fourth generation family winemaker, bottled his first wines under the Seghesio label. Nestled in the heart of Dry Creek Valley, the Cortina vineyard was purchased by the winery in 1957. The climate is both coastal and inland with coastal fogs in the morning followed by long hours of sunshine. My notes: 15.2% alcohol. Medium red, sweet red berry on the nose, intense, hot on the palate, somewhat unbalanced, too alcoholic.
For our next wine tasting, we'll be tasting the wines blind, so be ready for the challenge!
Previous wine club tastings:
•
Drink Local Tasting
•
Pairing wine and cheese
•
Tasting the wines of the Rhône Valley
Technorati tags:
wine
food & drink
After Thanksgiving, we had a good amount of turkey left and also some of the broth that was used for the gravy. So looking for a recipe to accommodate the leftovers, we were inspired by that Moroccan-inspired turkey soup that we found on the Web. For the soup, we made more broth using the turkey carcass and then added onions, carrots, parsnips, zuchini, squash, and tomatoes, spiced with saffron, turmeric, cinnamon, and chile. When the vegetables were almost cooked, we stirred in a small can of chickpeas and diced turkey meat. We served the soup with couscous, harissa, and fresh cilantro leaves.



Cooking the vegetables in the turkey broth

Our Turkey Couscous
With the Couscous, we drank a
2004 Châteauneuf-du-Pape Château de la Gardine
. The
Château de la Gardine
estate is located close to the town of Chateauneuf-du-Pape. The vineyard is made of different south-facing and southeast-facing lots overlooking the Rhône Valley. Some are covered with the famous stone pebbles that help hold moisture in the soil, retain heat during the day and release it at night. Planted white grape varieties include Roussanne, Grenache blanc, Clairette, and Bourboulenc. Red varieties are 60% Grenache, 15% Syrah, 12% Mourvèdre, the rest divided between Picpoul, Terret Noir, Counoise, Muscardin, Vaccarèse, Picardan, and Cinsault. The grape varieties are vinified together and aged in oak barriques.
The wine held well against the soup. Showing a nose of ripe black fruit, it was smooth, rich, and spicy on the palate. Too bad we finished the whole bottle that night! Anyway, we didn't have enough turkey leftovers to make more soup.
Technorati tags:
wine
food & drink
After Thanksgiving, there was an unused bag of fresh cranberries in the refrigerator so we decided to make some cranberry cocktails. We adapted a recipe found in the current Sunset magazine that looked particularly delicious. This was fun to do and the drink was fruity and refreshing after the big Thanksgiving meal that we had the day before.



Chilling the drinks in the snow

A glass of Cranberry Cocktail
Our Cranberry Cocktail recipe: combine 1 part tequila, 1 part cranberry juice, 1 part fresh cranberries, 1/2 part triple sec and ice cubes in a blender. Add a splash of lime juice. Blend until smooth then strain liquid through a fine strainer. Pour into glasses with a sugar-coated rim and a lime wedge. Enjoy!
Technorati tags:
wine
food & drink
It's dark and cold outside and I have a bottle of wine that should warm me up: a 2006 St. Francis RED that was recently sent to me by Kobrand Corporation.

The wine, made by St. Francis Winery, is a proprietary blend of 48% Merlot, 28% Cabernet Sauvignon, 15% Syrah, 3% Zinfandel and 6 % Mixed Blacks (Cabernet Franc, Grenache, Alicante, Malbec), from Sonoma County.

"RED is for all red wine lovers who simply want a tasty bottle of wine with a fun package at a great value. It's my job to worry about clones, soil conditions, vintage and Vinification" says St. Francis Winemaker Tom Mackey on the winery's website, "so that the consumer doesn't have to. We've created a dependable, versatile wine — No lessons needed &mdash uncork and enjoy."

The St. Francis RED is made to be fun: if you buy the wine by the case, each bottle comes with a different red patterned label. If you buy only one bottle, you can pick and choose the label you like the best.

The wine has a deep color and a nose of spiced cherries and sweet berries. On the palate, it is full-bodied, fruity, juicy, slightly tannic with a peppery aftertaste. For a retail price around $10, it's a steal.

The RED website has also some hearty recipes that should go well with the wine. I noticed their Braised Short Ribs recipe that looks delicious and perfect for the season. Just make sure you have enough braising sauce to pour over your mashed potatoes!

Technorati tags: wine food & drink
Last month, I was lucky to be in Paris just in time for the harvest festival in Montmartre. The Montmartre hill used to be a small village completely covered with vineyards. A temple dedicated to Bacchus, the god of wine, was built there by the Romans. But in the early 20th century, the vines were completely devastated by the phylloxera epidemic, as well as urban development. Fortunately, in the early 30s, a group of artists petitioned the government in order to resurrect and replant a 1,556 square meter parcel of land called Clos Montmartre.


Clos Montmartre
The Clos Montmartre vineyard is planted with 27 different varietals (primarily Gamay and Pinot Noir), and produces around 1500 half-liter bottles each year. It's the only remaining vineyard within the city limits of Paris. After harvest, the wines are sold at auctions, the proceeds going to local charities. Those who have tasted the wines say they are
decent enough
, although the bottles, with labels designed by local artists, have now become collectors' items.
Sadly, the Clos de Montmartre vineyard is not open to the public. There were a couple of special visits organized by the City Hall during the harvest festival but they were all sold out by the time I inquired about them. Moreover, there was no tasting of Montmartre wine during the Festival.
Nonetheless, the small streets around the white dome tower of the
Basilique du Sacré Coeur
were lively, with stalls selling regional food and wine everywhere, and street performers attracting crowds in front of the Basilique.
A stall selling produce from Chablis
Have a plate of oysters with a small tasting of Muscadet
We had a nice time talking to Marie-France and Philippe Bec, owner of
Domaine de Bayelle
, a small wine estate located in the medieval village of
Caux
in Languedoc. We tasted their
2006 Coteaux du Languedoc Pézenas Cuvée Luména
, a blend of Grenache and Syrah from Pézenas, a sub-appellation of Coteaux du Languedoc. The wine had a dark garnet color and an appealing nose of forest berries and dried herbs. The palate was round, medium-bodied, not overly complex but tasty. The Becs recommend to drink the wine with a
Ragoût d'Escoubille
, a hearty Languedoc dish made primarily of pork, sausages, wild mushroom, and olives.

Marie-France and Philippe Bec from Domaine de Bayelle
Technorati tags: wine food & drink
Has wine become a grape-based processed food product? Keith Wallace, founder of the Wine School of Philadelphia and contributor to The Daily Beast thinks so and explain why in his latest article.

"The bottle you'll enjoy with dinner tonight likely wasn't produced at a winery, or by a winemaker", says Wallace. "One imagines a winemaker in his vineyards, inspecting bunches of grapes. Maybe his dogs are chasing rabbits between the rows of vines. At night, he pops open a bottle of his own creation to share with friends and family. It is a romantic ideal."

In 2008, Americans consumed 658 million gallons of table wine, 80% of which, according to The Beverage Information Group, has been sold for less than $10. Most of these wines are made today by wine processing companies, such as Golden State Vintners, one of the largest suppliers of premium bulk wines, wine processing and storage services in the country. The company, which began as a small vineyard and winery in the 1930s, receives today the majority of its revenue from supplying well known labels with premium bulk wine. Gallo is one of the company's most important customers. Other customers include Sutter Home, Sebastiani, and Vincor.

What Wallace calls winery-less wines are not just found at the lower tier of the market. Today, many luxury wines come from wineries with no vineyard, no winemaking facilities and no tasting room. They are made in custom crush facilities. For example, the Oakville based Napa Wine Company has around 60 clients including Pahlmeyer, Crocker & Starr, and Volker Eisele, and works with 12 to 20 different winemakers. It produces one million cases of wine each year. The company facilities includes fermentation and barrel rooms, a bottling line, a wine testing laboratory, and a tasting room.

And things get weirder, says Wallace, when wines are made by actual wineries, from their own vineyards, by their own winemakers. but they hide behind a virtual label. When wineries has excess wine that they don't want to sell under their flagship brand, they bottle it under a second label that they sell for a fraction of the flagship brand's price.

If that whole wine business bothers you and you still want your wine made at a real winery, from a real vineyard and by a real winemaker, the trick is to read the fine print advises Wallace: look for the term "produced and bottled by" on the label, at least for the wines made in the US.

Technorati tags: wine food & drink
If a good friend of yours has a 27-year-old bottle of wine and is unsure whether he should open it or not, don't linger any longer, invite him for dinner, cook something good to accompany the wine, and savor the moment!


In the case of my friend, the bottle was a 1982 Côtes du Jura Vin Jaune Fruitière Agricole de Château-Chalon, a wine from the Jura, a mountain range located between Burgundy and Switzerland. The wine is produced with late harvest Savagnin, a native grape of the region, related to the Traminer family. Like Sherry, The Vin Jaune or Yellow Wine is matured in barrels under a film of yeast on the surface of the wine, but unlike Sherry, it is not fortified. The wine ferments and ages in small 228 liters barrels that are not topped up. This creates a air gap above the wine permitting the formation of a veil (voile) of active yeast at the surface of the wine. Traditionally, Vin Jaune is bottled in special 62 cl bottles because at the time of bottling, only 62% of the original wine has remained after several years of barrel ageing.

Poularde aux Morilles et au Vin Jaune (Chicken with Morels and Vin Jaune) is the wine's classic pairing in the Jura but to tell you the truth, I was not ready to sacrifice a bottle of Vin Jaune just for that recipe. So on the website of a Jura producer, I found a chicken curry recipe that called for coconut, apple, banana, and tomato, and looked pretty tasty.



Chicken Curry with Coconut, Apple, Banana, and Tomato
The wine was extraordinary. It showed a deep yellow color and an assertive nose of dry fino aromas. On the palate, the first impression was silkiness and roundness. And then, the mouth was filled with rich flavors of walnut and almond, followed by more layers of multi-dimensional complexity. After a couple of sips, the wine would leave a lingering aftertaste of curry spice, just like my chicken dish. This was amazing!
Technorati tags:
wine
food & drink
Drink local was the theme of our latest wine club event and for the occasion, we tasted a selection of wines from Santa Cruz Mountains and Carmel Valley wineries.

From Half Moon Bay in the north, to Mount Madonna in the south, the Santa Cruz Mountains are home to more than 70 wineries, including some of the oldest in California. The acclaimed 1971 Ridge Vineyards Monte Bello Cabernet Sauvignon participated in the 1976 Judgment of Paris and placed 5th between Château Haut-Brion and Château Leoville Las Cases. And just 70 miles south of San Jose, there is Carmel Valley, in Monterey County, 12 miles east of Carmel-by-the-Sea. There are several wineries located deep into the valley, nestled in the Santa Lucia Mountains along the Carmel River .

Here are the wines that we tasted:


•2008 Kathryn Kennedy Sauvignon Blanc California: Kathryn Kennedy, who recently passed away at 82, took up winemaking in her 40s and was among the first women in California to estblish a wine label in her name. She has been well known for her Bordeaux style wines including her estate Cabernet and Lateral, but this California Sauvignon Blanc is the winery's first green wine. Blended with fruits from certified organic vineyards in Napa, Lake and Mendocino counties, the wine is made in a clean no oak style and fermented in stainless steel at cool temperatures. My notes: pale yellow color, fresh nose of citrus, tanguy on the palate and slightly herbal.


•2007 Storrs Chardonnay Stu Miller Vineyard Santa Cruz Mountains: Steve and Pamela Storrs, founders and owners of Storrs Winery, bought 50 acres in 2001 on the southwestern slopes of Mount Madonna in the Santa Cruz Mountains and began converting the estate to sustainable and organic farming practices. Their goal is to preserve the wildlife corridors and habitats on their farm. They've incorporated bat boxes for bats which are a natural predator for the Apple Codling Moth; barn owl boxes and raptor perches for barn owls which are natural predators of gophers and ground squirrels. They do cover cropping to build up the fertility of the soil and have removed non-native invasive plants. The wine is sourced from the southwest facing Stu Miller Vineyard, which overlooks Monterey Bay at a 1050 ft. elevation. My notes: medium yellow color, subtle nose of peach, apple, and grapefruit, crisp and full-flavored on the palate, long finish.


•2005 Mount Eden Saratoga Cuvée Pinot Noir: founded in 1945, Mount Eden Vineyards is a small historic wine estate located on a 2000 foot peak in the Santa Cruz Mountains, about 15 miles from the Pacific Ocean. The Saratoga Cuvée Pinot Noir is composed of grapes locally grown from two privately-owned vineyards. My notes: medium red color, sweet and sour cherry on the nose, medium-bodied, good acidity, nice rich palate, very tasty.



•2004 Bonny Doon Le Cigare Volant: founded by innovative winemaker Randall Grahm in 1983, Bonny Doon Vineyard was amongst the first Californian wineries to embrace Rhone varietals, thus Randall Grahm's nickname The Rhone Ranger. Le Cigare Volant, which means The Flying Cigar, or figuratively The Flying Saucer, is a tribute to Châteauneuf-du-Pape in the Rhone Valley. The name refers to a Châteauneuf-du-Pape 1954 ordinance, forbidding the landing of flying saucers in its vineyards. Looking closely at the label, it shows a flying saucer beaming up a vigneron and his oxen. The wine is a blend of 38% grenache, 35% syrah, 12% mourvedre, 8% carignane and 7% cinsaut. My notes: bright red color, fruity nose, juicy with a mineral finish, uncomplicated but pleasant.


•2004 Clos LaChance Estate Cabernet Sauvignon: launched in 1992, Clos LaChance is a family-owned and operated winery located in San Martin, 30 miles south of San Jose, California. The Estate Cabernet Sauvignon is sourced 100% from the Clos LaChance 150-acre Estate Vineyard in San Martin where nearly 20 varietals are planted. The vineyard is farmed using sustainable practices, including natural biological control, building healthy soils, recycling natural resources, and enhancing surrounding wildlife habitat. My notes: deep garnet color, nose of sweet black cherry, good acidity, with some tannins, well-balanced overall.


•2002 Bernardus Marinus Carmel Valley: Bernadus Winery is located in Carmel Valley in Monterey County. The Marinus vineyard is in upper Carmel Valley, planted with a blend of the five traditional Bordeaux varietals. It is separated into a number of small blocks according to soil type and exposure, each block having its own unique terroir and being cared for with its own strategy to ensure its best expression. The wine is a blend of 65% Cabernet Sauvignon, 28% Merlot, 3% Cabernet Franc, 3% Petit Verdot, and 1% Malbec. My notes: deep red color, red berries on the nose, fine, elegant palate, nice complexity on the finish.


•2007 Ridge Geyserville: Ridge Vineyards has made a Geyserville wine for thirty-six consecutive years. The Geyserville Vineyard is located on the western edge of Alexander Valley in Sonoma County and is composed of 12 acres of 40-year-old zinfandel, 15 acrs of 11-year-old zinfandel, 5 acres of 121-year-old mixed black varietals, 5 acres of 21-year-old petite sirah, 3.5 acres of 11-year-old petite sirah, and 7 acres of 111-year-old carignane. The 2007 vintage is a blend of 58% Zinfandel; 22% Carignane; 18% Petite Sirah; 2% Mataro. My notes: deep color, nose of raspberry and wild berries, snooth and rich on the palate, well-balanced, distinctive finish.

For our next meeting, and on time for the holidays, we'll be tasting Zinfandels, so stay in touch.

Previous wine club tastings:
• Pairing wine and cheese
• Tasting the wines of the Rhône Valley
• Pinot Noir Tasting
Technorati tags: wine food & drink

Technorati tags: wine food & drink
Today is Blog Action Day, an annual event held every October 15, asking the world's bloggers to post about the same issue on the same day. Today's issue is climate change and more than 10,000 sites have already blogged about it.

Studies show that the impact of global warming could be devastating and that fundamental ecosystems will be modified. But what are the effects of climate change on grape growing and wine production?

According to this article, over the last 50 years, growing season temperatures have increased for most of the world's high quality wine regions by an average of 2°C, and by 2049, wine regions can expect an additional growing season temperature increase of 2.04°C.


Wine industry warned on climate change
Cool climate regions will benefit the most from growing season temperature increase as fruits will be able to ripen better and more varieties could be considered that cannot properly ripen there today. However, the warmest wine regions, which includes most of the vineyard areas in California, will suffer the most. In warm to hot regions, ripening is rarely an issue but retaining acidity and developing flavor can become increasingly difficult. These regions may have to consider other grape varieties that will produce better in a warmer climate. And some of the warmest regions, including Chianti, Rioja, Southern France, the Hunter Valley, parts of Chile and the Central Valley of California, have already experienced some tangible changes due to global warming.
Another negative effect of global warming is the fact that harvest time is moving to the warmest part of the year with reduced water availability and increased pest and disease burden. Moreover, rising temperatures come with an increased frequency of extreme weather events and a rising unpredictability of climates. Winegrowers, like all farmers, don't like unpredictable and unstable weather, which is often detrimental to vintage quality.
The whole article is
here
.
Technorati tags:
wine
food & drink
Syrah was the theme of our last blind tasting meeting. The guests brought 6 different wines from various regions, including California, Oregon, Washington State, and the Rhône Valley. As usual, the wines were served blind and in a random order, but oddly this time, we unanimously enjoyed the first three, and found that the last three were fairly flawed.



Our Wine Tasting Setup
The wines we tasted:
•
2003 Drew Syrah Six Sense Santa Barbara County
:
Drew Wines
focuses solely on vineyard and appellation specific Pinot Noir and Syrah. The Six Sense Syrah is a blend of 100% Syrah from six different vineyards located within Santa Barbara County, and from six different grape clones. The different components of the wine were barreled separately and aged for eleven months, in a combination of French and American oak barrels, 1/3 new, 2/3 neutral. Our notes: nose of sweet cherry nectar, ripe and smooth on the palate, spices and herbs on the finish. Well balanced, food friendly. Finished in second position.
•
2005 Ridge Syrah Lytton West
:
Ridge's Lytton West Vineyard
is located in the hills separating the Dry Creek and Alexander Valleys in Sonoma County. The wine is 94% Syrah cofermented with 6% Viognier. According to the winery's website,
"Viognier has a beautiful pungency of apricot, peach, and white flower which helps lift the total aroma of syrah which tends to be dark and gamey.
" Our notes: nose of cooked fruit with notes of cinnamon and blueberry. Rich, smooth on the palate with flavors of creamy custard. Lengthy finish. Finished in first position.
•
2003 Columbia Crest Reserve Syrah Columbia Valley
: founded over 20 years ago,
Columbia Crest
is one of Washington State's main wine producers. The 2003 Reserve Syrah was co-fermented with 2% of whole berry Viognier whith fruits coming from two vineyard sites—one for Syrah and one for Viognier—in the Horse Heaven Hills appellation. Our notes: fruit forward nose with notes of green pepper and cocoa. On the palate, medium bodied, high in alcohol with a spicy, earthy finish. Finished in third position.
•
2006 Cornas Granit 30 Domaine Vincent Paris
: Vincent Paris, co-president of the Cornas appellation, owns 6 hectares of vineyards located along the southeast facing Cornas slope as well as in the nearby St. Joseph appellation. He makes two Cornas designations, the Granit 30 and Granit 60, that differ in terms of soil, age of the vines, and location in the slope. The Granit 30 comes from younger vines at a lower grade slope and is made in a more
"consumer friendly"
style. Our notes: barnyard aromas on the nose, tannic, acidic on the palate, not consumer friendly. Finished last.
•
2005 Cristom Estate Syrah
:
Cristom Vineyards
cultivates eight distinct vineyards in the Eola Hills area of Oregon's Willamette Valley. Plantings include Pinot Noir, Chardonnay, Pinot Gris, Viognier and Syrah. The vineyards are dry farmed with low yield. Our notes: notes of chemicals on the nose, tight, tannic, acidic on the palate. Finished in fifth position.
•
2002 Pipestone Reserve Syrah Paso Robles
:
Pipestone Vineyards
is a small family winery located in the Paso Robles appellation. It is dedicated to sustainable farming and producing handmade Estate Grown Rhône-style wines from Syrah, Grenache, Mourvèdre, and Viognier and a dry-farmed Zinfandel. The Estate Syrah is grown on a south-facing hillside in the estate vineyard. Hand-harvested, it was aged in French and American oak barrels for 24 months. Our notes: dusty nose of caramel and cocoa. On the palate, high in alcohol, dry, tannic, not so well balanced but drinkable. Finished fourth.
Previous blind wine tastings:
•
Blind Tasting of Cabernet Blends from Washington State
•
Blind Tasting of Pinot Noir from Los Carneros and Anderson Valley
•
Blind Tasting of Grenache-based Wines
Technorati tags:
wine
food & drink