Write about Wine. Read about Life. WineWonks, the Wine Blog Community.
When we left the Dordogne, we stopped over in Blois where we ate at a small and charming Michelin one-star restaurant called Au Rendez-Vous des Pêcheurs. The restaurant occupies an old grocery in a 16th-century house not very far from the chateau, and specializes in seafood and regional cuisine with local products from the Loire Valley.


We drank a delicious 2006 Jasnières Les Vignes de L'Ange Vin Le Charme du Loir, a wine from Jasnières, a small appellation located on clay/limestone hillsides thick with flint stones along the Loir River (a tributary of the Loire River). The area is the most northerly wine-growing region of the Loire Valley and is therefore distinctly colder. The wines are all dry white wines produced from Chenin Blanc grapes.

Les Vignes de L'Ange Vin was founded by Jean-Pierre Robinot, who used to run a wine bistro in Paris called L'Ange Vin for nearly 15 years. L'Ange Vin means angel wine but it is also a play on words with Angevin, a term that applies to the residents of the Anjou region and its capital Angers. Jean-Pierre Robinot is an ambitious winemaker that practices natural farming and winemaking. The white wines (70% of the production) are pressed very slowly and raised on the lees in oak barrels for at least 12 months. Minimal sulfur is added.

The wine had a light yellow color and a nose of citrus and white flowers. On the palate, it had a bright acidity, lots of minerality and a touch of honey. The wine was more crisp than a Vouvray or a Savenières but had plenty of character that highlighted well the flavors of the food.



Carrot Mousse and Mushroom Flan

Crayfish Stuffed Zucchini Flower

Bass topped with Sweetbreads

Strawberry Soup
Technorati tags:
wine
food & drink
Earlier this month, I was in the Dordogne for our biennial family reunion. This region, located in southwest France and east of Bordeaux, is I think, one of the best spots in France for a family vacation. There are hundreds of prehistoric caves, more than 1500 castles and plenty of medieval villages to explore. The region is also famous for its local specialities including foie gras, duck confit, duck magret, and truffles. And of course, there is wine.

The Bergerac wine region lies along the Dordogne river and is the biggest appellation in the south west of France, producing red, dry white, and sweet white wines. The grapes growing in the region are similar to the Bordeaux varieties but the local climate is more continental and less influenced by the Atlantic ocean. Winters are mild and summers are long and can be very hot with occasional storms and showers.



Vineyards in the Bergerac Appellation
During the week that I spent in the area, I had the opportunity to visit the
Domaine de L'Ancienne Cure
. It is a family owned estate growing grapes in the
Bergerac
,
Pécharmant
, and
Monbazillac
appellations. The name of the domain refers to the old presbytery that Hélène and Gaston Roche bought in 1946 in the small village of Colombier, several kilometers from the town of Bergerac. They were mainly growers at the time, sending most of their grapes to the local cooperative. In 1984, their son Christian Roche inherited part of the family property and built its own winery to become an independent winemaker. Since 2009, the estate has been converting to organic viticulture.

Domaine de L'Ancienne Cure
At the domaine, we were warmly welcomed by a friendly and knowledgeable staff. We sat at the large farmhouse table in the middle of the tasting room and spent two hours tasting and talking about the estate production. The winery makes dry white, sweet white and red wines in three different lines: Jour de Fruit for fruit-forward, ready-to-drink wines, L'Abbaye for more concentrated, age-worthy wines, and the top of the line, L'Extase.
We tasted the following wines:
•
2009 Bergerac Sec Domaine de L'Ancienne Cure L'Abbaye
: 30% Sauvignon Blanc, 20% Muscadelle, 25% Sémillon, and 25% Sauvignon Gris. Sauvignon Gris is a rare grape variety on the brink of extinction that has been revived recently in Bordeaux and in the south west. Manual harvest, aged 9 months in barrel, 30% new. My notes: deep golden color, sweet floral nose. On the palate much drier than it smells, peach, tropical fruit aromas, creamy mouthfeel.
•
2008 Bergerac Sec Domaine de L'Ancienne Cure L'Extase
: 45% Sauvignon blanc, 35 % Sémillon, 20 % Muscadelle. Manual harvest, 60% new oak barrels. My notes: deep golden color, intense nose, lots of freshness on the palate with additional citrus notes, great balance between acidity and richness.

The red wines
•
2008 Pécharmant Domaine de L'Ancienne Cure Collection
:
Pécharmant
is a small appellation on the north bank of Bergerac. The name means
charming hill
,
pech
coming from the occitan word puèg which means
hill
and
charmant
meaning
charming
. The wine is a blend of 50% Merlot, 25% Cabernet Sauvignon, 25% Cabernet Franc. Aged 18 months in new oak barrels. My notes: dark color, blackberry nose, very young, still tight and not really "made" yet (with the fruit on one side and the oak on the other side), age-worthy.
•
2005 Bergerac Domaine de L'Ancienne Cure L'Extase
: 50% Merlot, 40% Cabernet Sauvignon, 10% Cabernet Franc. Grapes are harvested very ripe on calcareous soils and with more acidity on clay soils. Aged 19 months in new oak barrels. My notes: deep color, gamey aromas, ripe blackberries, jammy, quite silky on the palate, fine tannins, good acidity, age-worthy.

The sweet Monbazillac wines
•
2009 Monbazillac Domaine de L'Ancienne Cure Jour de Fruit
: the wines of
Monbazillac
were already well-known in France in the 14th century but were discovered by the Dutch in the 17th century during the Wars of Religion when many Protestants from the Bergerac area emigrated to Holland. Like nearby Sauternes, the wine is issued from Sémillon, Sauvignon Blanc, and Muscadelle grapes harvested by hand when the grapes are affected by the noble rot or botrytis cinerea. The wine is a blend of 90% Sémillon, 10% Muscadelle. My notes: light golden color, floral nose. On the palate, light-bodied, sweet and fresh without been sirupy, nice citrus on the finish, good acidity, great with foie gras.
•
2003 Monbazillac Domaine de L'Ancienne Cure L'Extase
: 90% Sémillon, 10% Muscadelle. Careful selection of the best berries, aged in new oak barrels. My notes: deep amber color, powerful nose of madarin orange. On the palate, very rich, sweet, long finish.

Showing the different amounts of botrytised fruit used in the Jour de Fruit and Extase cuvées
Technorati tags:
wine
food & drink
At last month's Port4lio Tasting in San Francisco, I had the opportunity to taste some delicious white wines made from uncommon grapes. Here are the three that I found the most distinctive:

•2010 Raventós i Blanc Silencis: the wine is 100% Xarel-lo, a Spanish grape variety from Catalonia. Although Xarel-lo is mainly used with Macabeu and Parellada in Cava production, it is sometimes used alone in still wines. Located in the Penedès wine region, south west of Barcelona, Bodegas Raventós i Blanc was founded in 1986 by Josep Raventós Blanc, a member of the Codorníu family. The family-run, quality-oriented winery owns 90 acres of vineyards, planted mostly to local varieties such as Macabeo, Xarel-lo, and Parellada, on rocky, chalky soil high in limestone content (like Champagne). The wine has a pale yellow color and a mineral nose of crushed seashells. On the palate, it is dry and quite earthy with a long distinctive finish.

•2010 Trajarinho Vinho Verde: the wine is a blend of Trajadura and Alvarinho, two native grape varietals of the Iberian Peninsula. In Portugal, they are mainly found in the Vinho Verde region in the northern part of the country. Low in alcohol (11.5%), the wine has a light golden color and an attractive floral nose. On the palate, it is rather dry, slightly fizzy with lemon aromas and a refreshing finish.

•2009 Bott Hárslevelu Határi: Hárslevelu is generally blended with Furmint to produce Tokaji Aszú in the Tokaj-Hegyalja region of Hungary but in this wine, it is vinified as a pure varietal dry wine. Határi is one of the top vineyards in Tokaj and the small, family-run Bott winery maintains 1.5 ha of vines there, planted on a rocky, volcanic terraced slope. The wine has a light yellow color and an unusual nose of aromatic herbs (thyme, rosemary). On the palate, it has a great mid-palate mouthfeel with notes of rose petal on the finish.

Technorati tags: wine food & drink
May was Soave Month in New York so as part of the promotion program, I received a couple of wine samples from Colangelo & Partners.

Maybe Italy's best wines are red but I really like its white wines, especially those that are fresh, crisp, fruity, as well as delicious with food.

Soave is (with Pinot Grigio) one of Italy's most popular white wines. It comes from the Veneto region in the northeast corner of Italy, the country's third biggest wine producer. The Soave growing area is situated in the hills east of Verona and is characterized by volcanic soils particularly rich in minerals. Garganega is Soave's principal grape variety and Italy's 6th most widely planted white grape.


We first tasted the 2009 Il Casale Soave Classico produced by Azienda Agricola Le Albare. Le Albare is a small 6.5 hectare family estate planted with 100% Garganega grapes. it was founded at the turn of the 20th century by Adam Posenato, current winemaker Stefano Posenato's great-grandfather. The wine had a light golden color and a quite stony nose. On the palate, it was light-bodied with a crisp minerality and notes of citrus on the finish.


We actually prefered our second sample, the 2009 Re Midas Soave. The wine is produced by Cantina di Soave, a cooperative founded in 1898 and made up of 2,200 winegrowers and farmers with currently 6,000 hectares under vine. The wine was named after Re (King) Midas who wished that everything he touched would turn to gold. Re Midas vineyards are located on the hillsides in the village of Soave at elevations between 100 and 350 meters. The wine is 100% Garganega aged 3 months in stainless steel followed by 1 month in bottle before release. it had a pale yellow color and a spicy nose with a touch of honey. On the palate, it was fuller and rounder than the Il Casale with aromas of fresh white peach. It was actually a very good accompaniment for our Cod with Lentils.

Technorati tags: wine food & drink
A couple of weeks ago, I was invited to Port4lio at the historic Fort Mason firehouse in San Francisco, an annual tasting event featuring wines imported by Blue Danube Wine Company, Return to Terroir, and Vinos Unico. This year, the event prominently featured French winemaker Jean-Michel Morel presenting his Slovenian wines for the first time in the US.



Jean-Michel Morel of Kabaj winery
With his wife Katja Kabaj, Jean-Michel Morel is the owner of
Kabaj
, a winery located in
Goriška Brda
, a wine-growing region in western Slovenia, near the Italian border. It was one of the first regions in Slovenia to establish an international reputation for the quality of its wines. Thanks to the Adriatic sea, the area enjoys a Mediterranean climate with constant dry winds called "Bura" that reduces the need for fungicides and pesticides. The soil is principally composed of ocean sediment and is rich in marlstone, slate claystone, and limestone.
The Kabaj family has farmed vineyards in Goriška Brda for generations and used to sell their grapes to the Yugoslav state. But in the early 1990s, Katja Kabaj and Jean-Michel Morel decided to release their own wines under the Kabaj family name. They own 55,000 vines farmed sustainably and fertilized with horse manure, 70% of which are white varieties, including indigenous Rebula (Ribolla Gialla), Sauvignonasse (Tokai Fruilano), and Malvasia Istriana. Red grape varieties are also grown, mostly Merlot, Cabernet Franc, and Petit Verdot. The winery has a modern cellar built a few years ago.
I tasted the folowing wines:
•
2008 Kabaj Sivi Pinot
: 100% Pinot Grigio, aged 12 months in French oak barrel, followed by 4 months in bottle. Yellow color, floral acacia nose, medium bodied on the palate, less acidic than a Italian Pinot Grigio.
•
2008 Kabaj Ravan
: 100% Tokai Fruilano also known as
Sauvignon Vert
or Sauvignonasse, a grape variety believed to have originated in the Veneto region. Aged 12 months in French oak barrel, followed by 4 months in bottle. Yellow color, floral nose, soft on the palate with fresh peach aromas.
•
2008 Kabaj Rebula
: 100%
Ribolla Gialla
, a white grape variety mostly found in the Friuli-Venezia-Giulia region of northeast Italy and in Slovenia where it has been grown since the 13th century. The wine is fermented on the skins for 30 days then aged 12 months in French oak barrel, followed by 4 months in bottle. Golden color, aromatic nose of herbs and mineral notes. Quite spicy and complex on the palate. My favorite among the whites.
•
2006 Kabaj Cuvée Morel
: 60% Merlot, 18% Cabernet Sauvignon, 18% Cabernet Franc, and 4% Petit Verdot. Aged 36 months in French oak barrels then 4 months in bottles. Dark garnet color, nose of dry herbs, medium-bodied, some tannins on the palate, needs to open up.
•
2007 Kabaj Merlot
: 100% Merlot. Aged 24 months in French oak barrels then 4 months in bottles. Dark color, aromatic nose, aromas of blackberries and cherries, medium-bodied, quite dry with some tannins. Not jammy at all but more fruity than the Cuvée Morel, very food friendly.
The last 3 wines of the tasting were the most interesting and intriguing. They were vinified and aged in 3000 liter clay jars buried underground called
kvevri
, using ancient Georgian winemaking practices. After being aged in the jars for 10 months on the skins, the wine goes without the skins into oak barrels for 12 months and aged for 12 additional months in bottle. During aging, 25% of the wine is usually lost to evaporation.
•
2005 Kabaj Amfora
: dark yellow color, floral nose, concentrated and tight on the palate, not really fruity, rather spicy and quite complex.
•
2006 Kabaj Amfora
: much more open than the 2005. Nice floral nose and additional notes of peach and apricots. Quite distinguished and really delicious.
•
2007 Kabaj Amfora
: more austere than the 2006, similar in style to the 2005.
Technorati tags:
wine
food & drink
The other day, I found some veal shanks at the store and decided to make Osso Buco, a dish where the veal is braised in wine, tomatoes, carrots, celery, onion, garlic, and herbs for at least 2-3 hours. The result is a full-flavored stew that calls for a rich and tasty Italian wine so I chose a 2007 Antinori Il Bruciato Bolgheri to accompany the Osso Buco.

Bolgheri is a wine region located on the southern coast of Tuscany and well known for its red Bordeaux style wines also called Super Tuscans. Thanks to a unique combination of sandy-clay soils, a sunny, dry, and moderately windy microclimate, and the effects of a maritime influence, Bordeaux grape varieties such as Cabernet Sauvignon, Merlot, Cabernet Franc, and Petit Verdot, tend to thrive there. Before the creation in 1994 of the Bolgheri Rosso and Rosso Superiore DOCs (Denominazione di origine controllata), the Super Tuscans of the area—wines of high quality but made outside DOC/DOCG regulations—were typically sold under the simpler designations Vino da tavola or IGT Toscana.


Il Bruciato is produced by Guado al Tasso, Antinori's Bolgheri estate located on the coast, 96km (60 miles) south-west of Florence. The wine is a blend of 50% Cabernet Sauvignon, 30% Merlot, 20% Syrah and other black varieties. Fermented in stainless steel, it was then racked off into oak barrels, where it aged for 8 months before being bottled.

The wine had a dark red color and an aromatic nose of moka, licorice, and black fruits. On the palate, it was full-bodied with a juicy mouthfeel and a smooth earthy finish. The wine was quite tasty and I thought my Osso Buco that I served with Polenta was quite tasty too!



Osso Buco with Polenta
Technorati tags:
wine
food & drink
It is true that Pinot Noir is one of the most expensive wine varietals. It is quite famous for being difficult to cultivate. The vines are not very vigorous and the berries have a very thin skin, which makes them especially prone to fungal infections. It is also one of the most troublesome wines to ferment, as its fermentation is fast and dificult to keep under control.


But if you're looking for a well priced and well crafted Pinot Noir, try the the 2007 Saintsbury Pinot Noir Garnet Los Carneros.

Founded in 1981 by winemakers Richard Ward and David Graves, Saintsbury Vineyards was named after English writer George Saintsbury, perhaps best remembered today for his Notes on a Cellar-Book (published in 1920). That collection of tasting notes and personal observations is one of the first books on wine written in English. The Saintsbury Club, a prestigious London dining club that still meets twice a year, was founded in 1930 in Saintsubry's honor.

The winery has been producing Garnet, an affordable and early-drinking style of Pinot, since 1983. It is made from Pinot Noir grown in the Los Carneros appellation, an area much cooler and windier than the wine regions further north in Napa Valley and Sonoma Valley. After the wines have spent a few months in barrel, the lots selected to become Garnet are assembled and the wine is bottled in early summer.

The wine shows a bright medium red color and a nose of violet and black cherry. On the palate, it is medium-bodied, quite juicy, and very refreshing. It is perfect to accompany grilled fish on the barbecue. Try it with Grilled Fish with Orange-Fennel Salsa.

Technorati tags: wine food & drink
A week ago, we were invited to the wedding of a British friend in Menlo Park, California. Although Menlo Park is not Buckingham Palace, the reception was a royal treat. The bride and groom were totally charming, the location stunning, the ceremony very moving, the eight course Chinese banquet exquisite, and I had the honor of selecting some California wines for the reception and dinner.


Our first wine was the 2009 Stuhlmuller Estate Chardonnay Alexander Valley. Stuhlmuller Vineyards is located at the southern edge of the Alexander Valley, just north of the Russian River Valley appellation. The 150-acre estate vineyard borders the Russian River and has a predominance of alluvial gravel-type soils as well as some rocky soils in the hillside sections of the vineyard. The wine was fermented with 100% indigenous yeasts. Aging occurred in both barrels (94%) and larger casks (6%), all of which were French oak (8% new). 85% of the wine underwent indigenous malolactic fermentation.

The wine had a bright nose of citrus and stone fruit. On the palate, it was crisp, elegant with a distinct mineral quality. The wine worked really well with the various hors d'oeuvres as well as with our first course, the crisp Tempura Tiger Prawns served over a bed of spring mix salad.



Tempura Tiger Prawn Salad
There was a second Chardonnay for the remaining courses, the
2009 Crossbarn Chardonnay Sonoma Coast
.
Crossbarn
is winemaker
Paul Hobbs
' second label. The wine was produced from selected vineyards within the Sonoma Coast appellation. 60% of the wine was fermented in tank, 40% in oak barrels using native and commercial yeasts. It was aged five months in French oak barrels where it underwent malolactic fermentation.
The wine had a nose of spiced apple and pear. On the palate, it was quite full and nutty with a creamy texture. Quite a typical California Chardonnay and a good accompaniment to the moist and flaky Baked Honey Glazed Soy Sea Bass.

Baked Honey Glazed Soy Sea Bass
Our red wine was the
2008 Chappellet Mountain Cuvée
. The
Chappellet Winery
is located in Napa Valley, in the eastern hills between Yountville and St. Helena. It has been producing wines since 1967 and was one of the first wineries to be established in the Napa Valley after Prohibition. Mountain Cuvée is a winemaker's blend of Bordeaux varietals made for early consumption. It is 52% Cabernet Sauvignon, 43% Merlot, 3% Petit Verdot, 1% Cabernet Franc, and 1% Malbec.
The wine had a nose of dark fruit and coffee. On the palate, it was medium to full-bodied, with a round mouthfeel and a well balanced finish. It was very food friendly and worked particularly well with the Skaking Filet Mignon, cubes of filet mignon sautéed with lemongrass, onions, and garlic.

Skaking Filet Mignon
Technorati tags:
wine
food & drink
The terms Left Bank and Right Bank refer to the banks of the Gironde river that flows through Bordeaux into the Atlantic Ocean. The Left Bank includes the Médoc appellation and its sub-appellations (Pauillac, Saint Estèphe, Saint Julien, Margaux etc.). On the Right Bank, we have Pomerol and Saint Emilion surrounded by their lesser-known (and generally less expensive) satellite appellations such as Lussac-Saint-Émilion, Lalande de Pomerol, Fronsac, and Côtes-de-Castillon.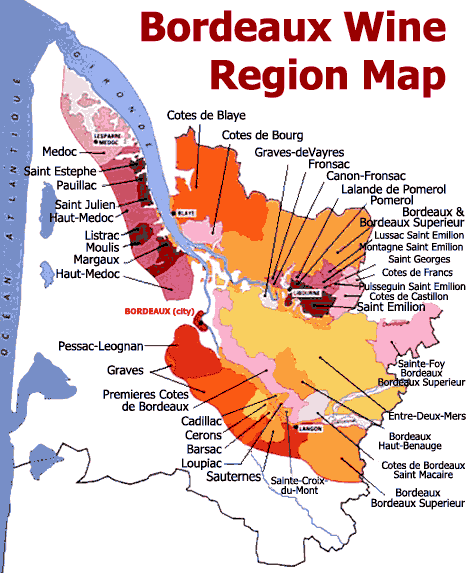 Bordeaux Wine Region
The left and right banks are quite different in terms of terroir. On the left side of the river, the soil is mostly composed of alluvial gravel deposits. It is well drained and holds the heat well, which makes it ideal for Cabernet Sauvignon. On the right side, the soil contains clay enriched with iron, limestone and sandy gravels, which suits Merlot particularly well. Therefore, Right Bank wines have a much higher percentage of Merlot in their blend, which makes them more fruit forward with less tannins. They are also more approachable when young.
Our latest tasting included Right Bank wines from Lalande de Pomerol, Côtes de Castillon, Fronsac, and Saint Emilion. We also tasted two dry whites. Dry whites from Bordeaux are not as well known as their red counterparts and the region produces only a small quantity of dry whites from blends of Sémillon, Sauvignon Blanc, and Muscadelle. Graves is the most well-known region for producing dry whites and the only one that includes them in its
classification
.
Here are the wines that we tasted:
•
2006 Château Carbonnieux Blanc
: Located just ten miles from Bordeaux along the Garonne river,
Château Carbonnieux
was built in the late 14th Century by the Benedictine monks. It is a Grand Cru Classé in the
Pessac-Léognan appellation
producing both red and white wines. The planting is 65% Sauvignon Blanc, 34% Sémillon and 1% Muscadelle for the whites and 60% Cabernet Sauvignon, 30% Merlot, 8% Cabernet Franc, 1% Malbec and 1% Petit Verdot for the reds. My notes: light golden color, nose of lemon and grapefruit, fresh and crisp on the palate, getting more complex with more time in the glass. A big favorite of the evening.
•
2005 Blanc de Lynch-Bages
:
Château Lynch-Bages
was founded in the late 17th century by Irishman John Lynch. The estate is ranked a fifth grown in the
1855 classification
but this only applies to the reds. It is located near the village of Bages, just southwest of Pauillac. The production is mostly red with a planting of 73% Cabernet Sauvignon, 15% Merlot, 10% Cabernet Franc and 2% Petit Verdot. There is also a 4.5 hectare plot planted with white varieties (40% Sémillon, 40% Sauvignon Blanc and 20% Muscadelle) that has been producing a white wine since 1990. My notes: unfortunately, I found one of the bottles oxydized. Light yellow color, stone fruits and honey on the nose, some thickness on the palate but not as good as the Carbonnieux.
•
2005 Château La Fleur de Boüard
:
Château La Fleur de Boüard
was founded in 1998 by Hubert de Boüard, co-owner of Château Angélus, 1er Grand Cru Classé of Saint-Emilion. It is located in the
Lalande de Pomerol
appellation near the town of Néac, just at the border of the Pomerol appellation. The wine is a blend of 80% Merlot, 15% Cabernet Franc, and 5% Cabernet Sauvignon. It was aged 18 to 24 months in oak barrels, 75% new. My notes: dark color, quite closed on the nose, medium bodied, tannic on the palate, cocoa flavors on the finish. This was our first red and I realized too late that I should have decanted it. I decanted the 4 remaining reds afterwards.
•
2005 Château de la Dauphine
: the Dauphine is
Marie-Josèphe de Saxe
, daughter of King Augustus III of Poland and wife of dauphin Louis, son of Louis XV. She was also the mother of the last three kings of France, Louis XVI, Louis XVII, and Charles X. She lived in the
Chateau
around 1750. The estate has 31 producing hectares in the
Fronsac
appellation. The wine is a blend of 90 % Merlot and 10 % Cabernet Franc. My notes: dark color, nose of berries and tart cherries, medium bodied, well balanced, pleasant finish.
•
2005 Château Plaisance Cuvée Alix
:
Château Plaisance
is an estate of around 40 hectares that has been run by Philippe Magrez of Grand Cru Classé Château Pape Clément since 2005. The vineyard is planted on a very steep south-facing hillside in the
Premières Côtes de Bordeaux
appellation. The soils are made up of white gravel at the top of the hill and red clay and limestone halfway down the slope. The blend is 75% Merlot, 20% Cabernet Sauvignon, 5% Cabernet Franc. My notes: dark red color, gamey nose, round, spicy and meaty on the palate, mineral finish.
•
2005 Château Ferrand Lartigue
:
Château Ferrand Lartigue
was founded in 1993 by Pierre and Michelle Ferrand. It is a 5 hectare estate classified Grand Cru in the Saint Emilion appellation. The wine is a blend of 85% Merlot and 15% Cabernet Franc. My notes: aromatic nose, earthy and smoky flavors on the palate, firm tannins, tasty.
•
2003 Château d'Aiguilhe
:
Stephan von Neipperg
of Saint-Emilion Grand Cru Classé Château Canon La Gaffelière acquired Château d'Aiguilhe in 1998. The estate is located on hills overlooking the Right Bank of the Dordogne River, on the border between the Côtes de Castillon and Saint-Emilion appellations. The south-facing vineyard lies on the upper part of the hills and has excellent drainage. The blend is 80% Merlot and 20% Cabernet Franc. My notes: deep brick-tinged red color, assertive nose of raspberries and blackberries, still tight on the palate, full-bodied with multi-layered flavors, long finish. The big winner of the evening.
Technorati tags:
wine
food & drink
Since we saw the movie Babette's Feast, my husband has been dreaming of reproducing Babette's masterpiece: the Cailles en Sarcophage Sauce Perigourdine (Quails in a Coffin, Truffle and Foie Gras Sauce).

So suddendly the other day, he was ready. He found a recipe on the internet, ordered a foie gras, and bought some quails and frozen puff pastry dough. He didn't have any truffles but decided to use a combination of mushrooms and truffle oil instead.

He deboned the birds, chopped the vegetables for the duxelle, sliced the foie gras, stuffed and roasted the birds, baked the puff pastry, and finally placed each quail in its coffin. The result was amazing: it really looked like the quails in the movie! And it tasted very yummy too! The birds were tender and juicy with earthy flavors and the puff pastry was light and flaky and not soggy at all. We also agreed that having a small piece of seared foie gras to accompany the quail would have been even better.



The stuffed uncooked quails

The quails in their coffins
A
1846 Clos de Vougeot
is the wine featured in Babette's Feast. I didn't have a Clos de Vougeot in the cellar but I found a
2002 Vosnes-Romanée Premier Cru Les Suchots Maison Champy
. The
Vosnes-Romanée
appellation is located south of Vougeot in the Côte de Nuits. The vineyard of "Les Suchots" is considered one of the finest of the Vosnes-Romanée Premier Crus, approaching grand cru level in quality. It is located on a mid slope in the Northern part of the village of Vosne-Romanée, near the famous "Echezeaux Grand Cru".
The wine had a deep red color and a smoky nose of cherry, violet and spices. On the palate, it was medium-bodied, quite complex, with mouth-coating savory flavors and great finesse on the finish. I don't know about the Clos de Vougeot 1846 that Babette served with her quails but our Vosnes-Romanée 2002 was not bad at all.
Technorati tags:
wine
food & drink
Is organic wine better for the environment than conventional wine? Slate contributor Brian Palmer wonders in his recent article.

Isn't the answer obvious? Conventional viticulture has serious environmental issues such as soil depletion, water pollution, loss of biodiversity, and resistance to pests. On the other hand, organic viticulture produces crops that are healthier, more drought tolerant, more resistant to diseases and pests, and can better compete with weeds. But in reality, viticulture is only one of many factors that contribute to the environmental impact of a bottle of wine. Other major factors are winemaking practices, packaging, and shipping.

This interesting study attempts to quantify the greenhouse gas emissions of a bottle of wine and compares various production and transportation scenarios. It shows that the difference in terms of greenhouse gas emissions, between organic and conventional viticulture is relatively small, although this could change if the cost of fossil fuel increases in the future. The CO2 emissions that occur during fermentation are also small. They represent less than 3% of the overall amount of CO2 emissions for one bottle of wine. However, aging wine in oak barrels is more costly for the environment than aging in stainless steel tanks, especially if barrels are imported and new oak is used every year.

Actually, the study shows that the greatest impact on the greenhouse effect from the wine supply chain comes from transportation, and this includes the transport of empty bottles to the winery and full bottles to the customers. The cost tends to be much higher for these ultra premium wines in thick, oversized bottles. In fact, it is far more "green" to use boxed wines or Tetra Pak packaging.

If you live in New York, it is also greener to drink a bottle of wine from Bordeaux that has travelled in a container across the Atlantic than a wine from Napa that came across the country in a truck. Now, for us Californians, what is the price of enjoying a bottle of Bordeaux without being too bothered by our green conscience?

Technorati tags: wine food & drink
At our last wine tasting event, one of our guests had some red wine spilled on his shirt. This is quite unfortunate but these kinds of incidents do happen so is there a safe way to remove red wine stains without damaging the fabric?

After a little bit of internet search, I found several effective methods that can be used depending on where you are (at home, in a restaurant) and what you have immediately within reach.

First of all, red wine stains need to be taken care of right away before they set. So check the label. If it is dry clean only, take the garment as fast as you can to the cleaners.

Otherwise, the idea is to dilute the stain's red pigmentation. One way is to blot the stain with a mixture of laundry soap and hydrogen peroxide. But test one small area first to make sure it does not discolor the fabric. Don't rub it, this would set the stain deeper within the fabric.

Another method is to blot the stain with club soda and let it bubble up. White wine can also be used because it dilutes the wine's red pigments. Surprisingly, milk is good too because it contains some enzymes that can discolor the stain. Allow the milk to remain on the stain for a good amount of time.

Following a different strategy, you can try to immediately absorb most of the stain with salt, cornstarch, talcum powder, or even baking soda. Once you have blotted as much of the stain, gently brush the powder off from the fabric.

How to Remove Red Wine from Fabric

Red Wine Stain Removal Methods

How to Get Rid of Red Wine Stains

Technorati tags: wine food & drink
A little while ago, we had a small gathering at my house to taste some Eastern European wines around a sauerkraut dish cooked with carrots, onions, apples, riesling, and juniper berries, and accompanied by braised pork chops, sausages, and potatoes. Most of our wines came from Austria, a major producer of aromatic dry white wines made mostly from the local Grüner Veltliner grape, although red wine production accounts for 30% of all Austrian wines. We also had a red wine from Slovenia, a country that has been producing wine since the time of the prehistoric Celts. Finally, we ended that excellent evening with a Tokay from Hungary, a wine that is believed to be the world's oldest botrytis wine.


We had our first wine, the 2008 Bäuerl Stein am Rain Grüner Veltliner Federspiel with an appetizer of hungarian peppers. Grüner Veltliner is the most widely planted grape variety in Austria. Grüner means green in German as the grape tends to produce fresh and youthful wines. It grows well along the Danube river on steep, rocky river banks, as steep as those found in the Mosel wine region.

Weingut Bäuerl is located in the Wachau, the part of the Danube valley between the village of Melks and Krems and one of Austria's westernmost wine-growing regions. The estate grows only white varieties: Grüner Veltliner (55%), Riesling (35%) and Muskateller (10%), and practices organic and sustainable viticulture. My notes: medium golden color, nose of green apple, pear, and honey. On the palate, smooth, juicy, and quite mineral. Good finish, nice appetite opener.



Hungarian Peppers
The next two wines were served with the sauerkraut. We started with the
2008 Heidi Schröck Ruster Furmint
.
Furmint
is most widely grown in Hungary and is the main grape variety of Tokay, Hungary's famous dessert wine. It is also found in Austria's Burgenland, near the Hungarian border.
Heidi Schröck
is a small 8 hectare estate located in Rust, Burgenland, on the west side of
Neusiedlersee
. Neusiedlersee or Lake Neusiedl is the second largest steppe lake in Central Europe at the border of Austria and Hungary. The lake stores heat and regulates the region's climate. Thanks to warm and humid autumns, it also provides the best conditions for the production of botrytized dessert wines. My notes: this Furmint is actually completely dry. The wine is crisp, mineral with aromas of ripe apple and spices. Very distinctive and quite popular with the dinner guests.
Also with the sauerkraut, we also tasted the
2007 Salomon Undhof Kögl Riesling
. Founded in 1792,
Salomon Undhof
is a Wachau estate that produces white wines from the best terraced sites along the Danube River. The 25 hectares of Salomon Undhof's vineyards are planted with roughly half Riesling, half Grüner Veltliner. All the grapes are harvested traditionally by hand. Undhof Kögl is a south facing terraced single vineyard with highly weathered soil of crystalline schist bedrock. My notes: light color, acacia flowers, stone fruits on the nose. Dry, slightly fizzy on the palate, fresh and crisp with citrus flavors and spices on the finish. I thought it worked really well with the sauerkraut.

Our Sauerkraut
We had the next two reds with cheese and a berry pie. Our first red was the
2004 Wenzel Bandkraften Blaufränkisch
. Weingut Wenzel is located in the Neusiedlersee-Hügelland wine-growing region. 60% of the 11 hectare vineyard is planted with the white varieties Furmint, Gelber Muskateller, Sauvignon Blanc, Pinot Gris, and Welschriesling, the remaining 40% is planted with the red varieties Blaufränkisch, Pinot Noir, and Merlot.
Blaufränkisch
is the second most important red grape variety in Austria after Zweigelt. It produces spicy wines rich in tannins. My notes: medium red color. Mocha and vanilla aromas on the nose. Full-bodiedood with wood and black cherry on the palate. Not as easy to drink as the next wine.
Our second red was the
2007 Santomas Big Red Refosk
. Located in the village of Smarje in Slovenian Istria, just southeast of Trieste,
Santomas
is a family-owned winery overlooking the Adriatic Sea. The area is the warmest wine region in Slovenia so the local wine production is mostly red. The winery currently farms 19 hectares of vineyards planted with traditional varieties like Refosco and Istrian Malvasia, as well as international grapes like Cabernet Sauvignon and Merlot.
Refosco
is a Northern Italian red grape variety that mostly grows in Friuli, Gavi, and Trentino. In Slovenian Istria, it is also known as Refosk. The grape produce deep colored wines that can be quite powerful and tannic. My notes: dark purple color. Smoky nose with black cherry and blackberry aromas. Fruity with bright acidity on the palate. Quite popular with the cheese.
Our last wine was the
2001 Hétszölö Tokaji Aszu 5 Puttonyos
. The
Tokaji
wine region, in northeastern Hungary, is characterized by long, warm autumns and misty mornings that favor the development of noble rot. The botrytis-infected grapes called Aszú are harvested manually, one grape at a time. They are then crushed and added to a dry base wine. The proportion of Aszú grapes added to the base wine is measured in
puttonyos
or
baskets
. One
puttony
represents 30 kilos of grapes that are poured into a traditional 126 liter barrel of base wine. The number of puttonyos can vary from 3 to 6 (the highest being the sweetest). The wine is then aged for three years in oak barrels stored in underground cellars. My notes: the Aszú 5 Puttonyos is 90 to 100% Furmint and has a minimum of 120 g/l of residual sugar. Deep golden color. Fresh, fragrant nose of apricot and tropical fruit. On the palate, unctuous texture with lively acidity, zesty kumquat notes on the finish.
Technorati tags:
wine
food & drink
The oldest winery ever found is 6,100 years old. It was recently discovered inside a cave in Armenia, near the country's southern border with Iran. Archeologists were able to date the winemaking installation to approximately 4,100 BC. That's the Copper Age, a transitional period between the Stone Age and the Bronze Age. In the cave, they found winemaking equipment, including a rudimentary wine press, a clay vat probably used for fermentation, a cup and drinking bowl, as well as remains of pressed grapes and grape must. They found no device to actually crush the grapes so they think that people stomped the grapes with their feet. The installation was surrounded by graves, which suggests that the wine may have had a ceremonial role.

After examining the seeds, paleobotanists were able to identify the grapes as vitis vinifera vinifera, which indicates that the winegrape had already been domesticated at the time. This is an important milestone in Human Evolution.

"Deliberate fermentation of carbohydrates into alcohol has been suggested as a possible factor that prompted the domestication of wild plants and the development of ceramic technology," said Hans Barnard, one of the archaeologists who teaches in the UCLA Department of Near Eastern Languages and Cultures.

Until now, the oldest wine production site was dated to around 3150 B.C. and was found in the tomb of Egyptian king Scorpion I.

You can read the whole article here, it's fascinating.

Technorati tags: wine food & drink