Write about Wine. Read about Life. WineWonks, the Wine Blog Community.
Date: Sun, May 9, 2010

German Pinot Noir! German, for Pete's sake! And it was fun and tasty. Not to mention a unique conversation piece. And no, Pinot Noir (a/k/a Spatburgunder) is not something the Germans started growing because they thought Sideways was a cool movie. It's been grown there for many decades. Put a light chill on this 1 Liter bottle and bring it to a cook-out.
Very light ruby garnet. Spritely nose leaps out of the glass with sweet/sour cherries and smoky minerals. You can also almost smell the crisp acidity that follows once you take a sip. Bright, almost prickly mouthfeel. Really nice fruit/acid balance. Soft, tanninless texture, with refreshing cherry fruit and a minerally finish. 87. Was $19.99 for a liter bottle at Central Market (so that makes it "under $15" per hypothetical 750ml). Imported by Terry Thiese (top-flight importer of German wines). Drink this year to enjoy the freshness.
(Sorry, 2006 pictured)
Date: Sun, May 2, 2010

A very well-done, full mature Ripasso.
Mature color. Dark garnet with rust highlights. Closed nose at first, but run through a
Vinturi
it displayed a complex bouquet of roasted meat, macerated dried cherries, licorice, and smoky pecan wood. Rich, low-toned, peppery flavors initially, with brandy-soaked plums; then lightening into earthy cherry/licorice flavors. Long, dry finish. At its apogee right now despite substantial tannin. Very distinctive and nice. Drink before 2010 is up.
89
. Was $18 at Spec's on Smith.
Date: Sun, May 2, 2010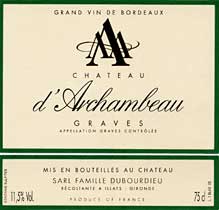 A solid, workman-like red Bordeaux at a decent price.
Jet black ruby with the bare beginnings of brick at the rim. Fairly closed nose, even with air time and being poured through a
Vinturi
. Light intensity aromas of cassis, toasted oak, resin, and scorched earth. Broad mouthfeel, with medium-fine-grained tannins present throughout. Ripe but bone dry flavors: dry, dark blackberry, smoky gravel. Long, interesting, though not particularly soft finish, with a slightly bitter, scorched edge. Elegant is not a word that describes this wine, though it was pretty satisfying in an unpolished way.
85.
Was about $15 at Spec's Warehouse on Westheimer and Commonwealth.
Date: Sun, Apr 25, 2010

A really nice, balanced and refreshing unoaked white from an arid, hot region more known for its gutsy reds.
Light, bright, brassy-gold.
Ripe, deep, tropical fruit-laden nose, with pineapple, banana, and notes of peach and lychee nuts. Dry and refreshing, with lots of pear fruit in the mouth, and a light, clean, stony minerality. Squeeze of lime at the end. Surprisingly well balanced, flavorful, and a great accompaniment to New Orleans "Barbequed Shrimp" (
recipe
).
88
.
Was $11 and change at Spec's on Smith, making it an excellent buy. Imported by Weygandt-Metzler.
Date: Sun, Apr 25, 2010

A unique (totally organic) Cabernet Franc from this idiosyncratic appellation. I liked it, but it's not a wine for the masses.
Black garnet with ruby highlights.
Day 1 the nose had loads of farm-fresh, sweet manure scents amidst smoky machine oil and tangy forest berries. Day 2 was much more normal, with lots of crisp cherry fruit and minerals. So give this guy plenty of air if the manure thing isn't for you.
Bone dry in the mouth, but with lots of lean flavors of dry cassis extract and mineral oil. Long, lean finish, with medium body and very good acidity. 86.
Was $17 and change at Spec's on Smith several months ago, so I don't know if they still have it. A Louis/Dressner Selection.
Date: Sun, Apr 25, 2010

A very nice, pure-tasting Spanish Grenache. (Astute readers have deduced by now that I am partial to Grenache-based wines, as I feel they tend to go well with a lot of the dishes my wife Liz and I cook.)
High-toned, yeasty raspberries on the nose, with notes of powdered stone and a squeeze of lemon.
Lots of clean, ripe fruit in the mouth -- raspberry and crisp cherry -- with a liquid mineral streak. Fair amount of tannin. Not a lot of depth in the mid-palate, but nicely-balanced and clean. 87.
I have a vague recollection I got this at Central Market a few weeks ago, and that it was around $15. But don't quote me on that. Imported by Partick Mata at Ol
é
Imports (a really good, young importer of generally zesty-styled Spanish reds).
Date: Sun, Apr 25, 2010

A really nice, classic-style Beaujolais from the higher-falutin' appellation of Fleurie.
Light ruby color.
Classic nose of crushed stone-infused bright cherry candy and grapes. Good weight, full body, with aggressive yet soft flavors -- lots of stony minerals, crushed sea shells, and an intense streak of dry cherry extract. Good acidity provides nice lift. Textbook cru Beaujolais. 88.
Got it online at Zachys.com for $22. Imported by Louis/Dressner Selections (one of the best).
Date: Sun, Apr 25, 2010
Another cheap and good Grenache from Spain.
Dark ruby color with violet highlights.
Gangly nose of crushed raspberries and rhubarb, laced with cinnamon-scented powdered stone.
Full-bodied, with decently-concentrated, low-toned fruit on initial entry, segueing into a crisp, minerally, slightly tannic finish. Lots of character, if not elegance, for this bargain basement price-point. 87. Was $7.99 at World Marketplace on Richmond neat the West Loop.
Date: Mon, Apr 12, 2010
This is an excellent Zin at an excellent price! Big, ripe, and full, but not overblown.
Mature black ruby color. Rich, smoky blackberry jam nose, with some subtle scorched earth notes. Enters the mouth with palate-clinging, low-toned intense flavors of iodine, blackberry extract, and black pepper. Very full-bodied, with a long, low-acid peppery finish. A real mouthful and a great value at $15 and change at Spec's on Smith (I'll list it as "under $15). 89. Drink over the next year.
(Sorry, can't find a photo.)
Date: Mon, Apr 12, 2010

A terrific wine -- fragrant, vibrant, loads of flavor, and zingy as all get-out. I haven't had many Trockens (dry German wines) that I love, but this is one.
Light, silvery-gold streaked with bright, light green. Vivacious nose of limes, granny smith apples, crushed stones, and a hint of fresh tea leaves. Incredibly lively and crisp, with tightly-concentrated green apple/pear fruit. Long, minerally, pure finish. Loads of fruit, but dry and very crisp. Great fun with Asian food or as a hot weather sipper.
90
. A Rudi Wiest Selection (He's a great German importer). Was about $25 at Spec's on Smith.
Sorry, 2007 shown.
Date: Mon, Apr 12, 2010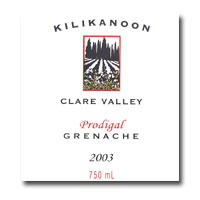 A big, ripe bruiser of a Aussie Grenache (i.e., just the way I like 'em).
Dark ruby color. Ripe, open nose of sappy raspberry oozings, warm sandstone, and balsa wood. Open, soft, and expansive in the mouth, with broad flavors of ripe berry sap, salty sandstone, and again with the balsa wood (I could have just said it tastes like it smells, I guess). Long, warm finish. A big fleshy mouthful. Not a cerebral wine, but a hedonistic one. Was great with butterflied, grilled leg of lamb. 89. Was about $26 at Spec's on Smith. (Sorry, 2003 shown)
Date: Sun, Apr 4, 2010

I love the bright feel and intense minerality of Paso Robles Zins. This is a textbook example, and with a reasonable price tag.
Medium dark ruby-plum color. Complex nose of equal parts pungent crushed stones and spicy black raspberry fruit, with a hint of brown sugar. Soft, yet with a leaner style than many of the weighty Zins that are being made these days. Long, minerally, peppery finish. Nice balance. A very food-friendly style of Zin. 88. Was $18 at Spec's on Richmond.
Date: Sun, Apr 4, 2010

Yet another dynamite Chilean Carmenere.
Completely saturated plasma-like ruby crimson. Rich, ripe, sweet-scented nose of blackberry syrup, incense, and sweet, smoky gravel. Soft, yet weighty, with concentrated flavors of ripe blackberry and graphite, with a long, long finish. Loads of very fine-grained tannin to provide some physical structure. Full-bodied, but with the alcohol seemingly in check. Very, very nice. 90. Imported by SWG Imports, Bend, OR. Still trying to find the receipt. . . .
Date: Sun, Apr 4, 2010

A textbook, classically-built Chianti.
Nearly saturated dark, crystalline ruby with a little garnet tint. Needs substantial air time (or to be poured through a Vinturi) for the nose to develop. Starts off closed and pungently minerally, but morphs into a classic nose of ripe chokecherries, minerally gravel, old barrel scents, and lemon zest. Soft as velvet and medium-bodied, with a refreshing lift in the mouth. Minerally/gravelly-infused cherry fruit. With just a tad bit more concentration, this would have been perfect! As it is, it's pure, refreshing, and has good length. Very little tannin is noticeable. Will make great drinking with a wide variety of Italian dishes over the next year. 88. Imported by Margaux and Associates. Was $16 and change at Spec's on Smith.